From time to time a great band is formed from a bizarre circumstance, genre, and interest. Like the saying that goes "Many are called but few are chosen" – most bands come and go or get locked up to the sound similar to their musical preference. Scarlet Alley is definitely not one of such statistics. — AND WILL NEVER BE.
Scarlet Alley is Apyong Nebrija (Percussions & Details), Dale De Paz (Percussions), Ken Alminar (Percussions, Ukelele, & Vocals), Jayford Opina (Synthesizer), Klient Duma (Drums), Iman Nicer (Bass), Christopher Nierva (Guitar), Charles Santillan (Guitar), and Jed Dycoco (Vocals, Songwriter).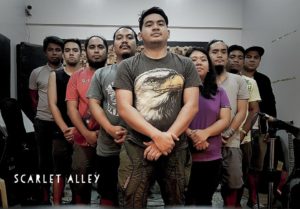 KBOX TV had a good insight about Scarlet Alley at the KBOX STUDIOS recently. Klient, Apyong, Ken, Iman, Chris, Charles, and Jed performed 2 of their original songs.
Malaya – a patriotic anthem that calls for unity. It speaks of modern day bayani and the freedom within to help others.
Bakal Avenue – a metaphor on the society's problem on illegal drugs.
Both songs are included in the first Scarlet Alley album – BUHAY, BAYAN, BABAE … BEER. The album was released in 2017 in celebration of creating music and being together as family for 10 years strong.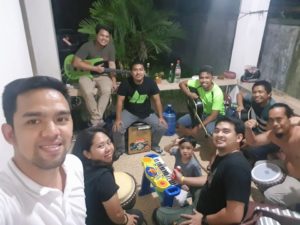 Scarlet Alley's genre is a product of shared musicianship by each and every member of the band. This arrangement process generates inordinate inputs until all elements get the pulso of a particular feel.
The band's extraordinary union is the very definition of Scarlet Alley's music itself. Surely – there'll be more songs to come KAY MAUYATON INI NGA BANDA PANHIMO HIN ORIHINAL NGA KANTA.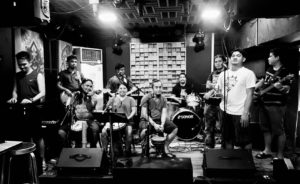 If you want to know more about Scarlet Alley, just visit and like their Facebook page. You can also check https://scarletalley.bandcamp.com/, iTunes, Apple Store, Amazon, or Spotify to stream or download the tracks of their album.
KBOX TV features existing and new talents. It will also recognize works from Region 8's ancestral past and promote the campaign to document unwritten and lost records that are vital in the Waray-Waray heritage. Check our website www.kboxstudios.com in case you miss it live on TV. You can also subscribe to the KBOX Youtube Channel and check what we have been up to.