Christmas is just around the corner, and after that, the year 2020. Wow. It feels like the year just suddenly flashed by like a bolt of lightning and now we're just waiting for a bit of snow!
In dreams. Yeah, the Philippines doesn't really get snow, but we do have an abundance of dreams. Every time the holidays rolls around, we dream of having that cool new car, that kickass gaming laptop, or the newest console, right before the year ends.
Here at KBOX Studios, we, too, have those dreams. Aside from striving for Eternal World Peace, the end of World Hunger, or just praying for good health all the time, we also like to lean towards material things. Not just because they're reasonably achievable, but also because it's nice to have nice things. To elucidate, I'd like to list down my 12 wishes (*cough-cough* 'stuff!') for Christmas. Note that all of us here at KBOX Studios are either musicians, artists, techies, or gamers, and we like jotting down stuff that'd at least correlate to some of our interests.
1 NEW GIBSON 2020 LES PAUL STUDIO GUITAR
I'd like it in black. If Gibson has anything darker than black, then I'd want that too. But it's not really about the color. It's about that Tone. I love the fat, round, and deep tone it gives out. I've handled a few Classic Gibson Les Pauls in my time, but I've never gotten my hands on the Studio version. Saw it on YouTube, heard it, and then wanted it instantly. You'd probably ask, "How about the older Gibson Classic Les Paul Studios?" Yeah sure, I'd like those, but if there was a 2024 version, I'd want that more. It's not that I'd only want the latest. It's that maybe there are newer implements of technology that they incorporated into it. Also, I could be wrong, but I feel like the wood's lighter with newer guitars.
2 A SIMPLE GUITAR PEDALBOARD WITH GUITAR AMP
I'd stake my life that Santa has tons of guitar pedals with amps galore. I imagine he's shredding and rockin' around the Christmas Tree while jiggling his bellybutton at Mrs. Claus. Oh yes, I am projecting. So anyway, I'd go for simplicity on this one, since I like to think I have reasonable preferences. An Ibanez TS9, A REVV G3 (because I'm not sure about the G4), a Dunlop Cry Baby Wah, A Strymon Blue Sky or Timeline (or BOTH!), and possibly an MXR M135 Smart Gate, are the Guitar Pedals I'd like to go along with a Vox Valvetronix VT40X Amp. Yes, Santa. Me go all out and totally contradict the title for this section. Christmas truly is a magical time.
3 THE TESLA ROADSTER 2020
I KNOW. I said I was going to list down some reasonably achievable stuff, but since I'm already calling Santa Claus a guitar shredding maniac, I might as well rip down the veils of normalcy with you guys. If I want a car, I'd like to have the best one in my opinion. Mind you, I'd settle for a flying multicab under normal circumstances, but heck, the Roadster even beats that notion. It is the only car that's IN SPACE RIGHT NOW (Ok fine, the actual car that was launched in 2018 for the SpaceX Program was Elon Musk's 2008 Tesla Roadster. Details Shmetails). Never mind the fact it has specs of 0-60 mph acceleration in 1.9 seconds and with a top speed of over 1 million light years per figment, because, well — SPACE! Yeah, 'nuff said.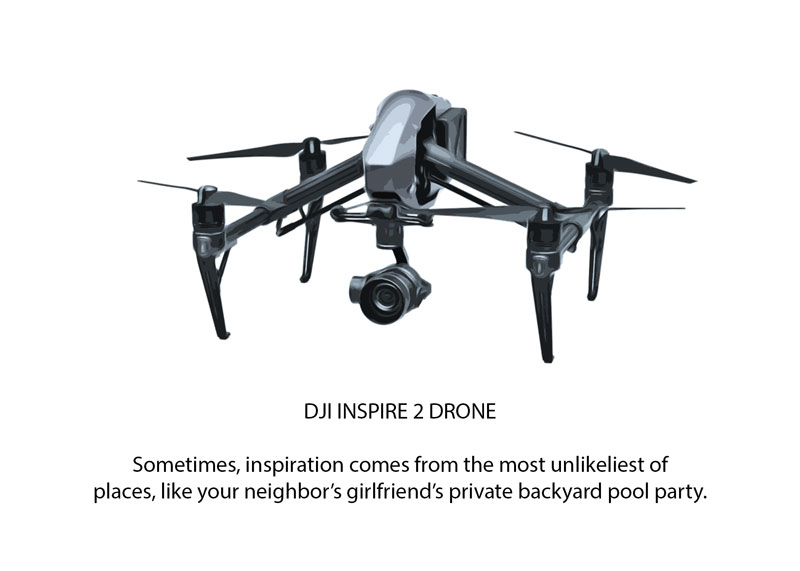 And just like that, we're back to terra firma and reality. So yeah, as techies, drones are an important part of our social arsenal. If you're a techie and you don't have a drone, that can only mean one thing. You're a person who doesn't have a drone. Uhmm, yeah. So my point is: Santa, can I have a drone, please? I'd like to have a really nice and simple drone that'll fit my video shooting and professional voyeuristic needs. I'd like to have the DJI INSPIRE 2 DRONE because I know it's not too much to ask and I've been a good boy for the last few days.
5 THAT CUSTOM GAMING (and all around) PC BEAST!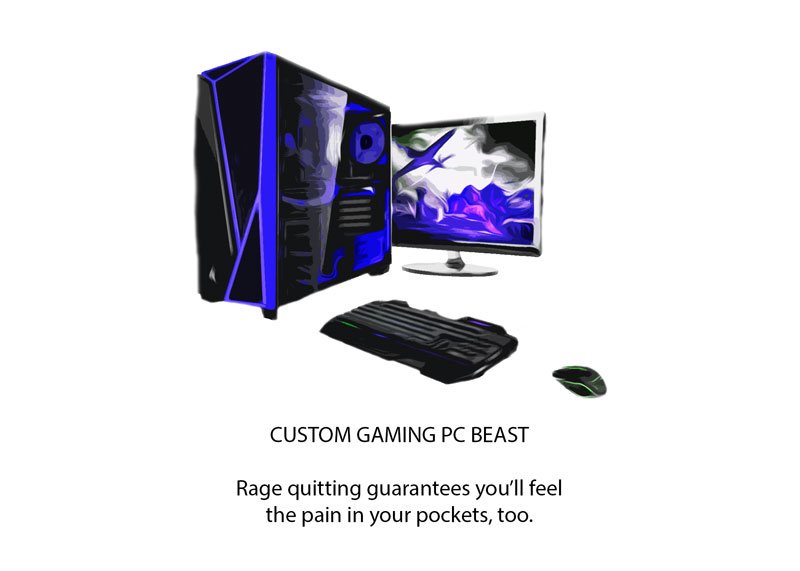 Yeah. That. Everybody wants one. Unless of course, you already have it. But let me clue you in on one little secret: HAVING ONE beast of a PC is good, but having TWO or MORE, is better. Because — speaking as an editor and an animator — rendering times are a pain, and no amount of cores or overclocks you muster will change the fact that a 3 minute animated scene can either take a whole day or a whole week (depending on the number of elements you put into each frame)! Which is why you need a separate PC for LoL gaming while you wait for the other computer to finish that 3D animation of Ariana. Preferred Specs are: Intel i9 9900k (8cores), Nvidia RTX 2080 Ti, 64 GB RAM Corsair Vengeance LPX DDR 4 DRAM 3000 MHZ (2 x 32 GB and I wonder if you'll really read all of these specs text), ASUS ROG Maximus XI Formula Motherboard, Samsung 860 EVO 500GB 2.5 Inch SATA III SSD, Seagate BarraCuda 2TB Internal Hard Drive HDD, Corsair Obsidian 1000D PC Case, APC UPS BE600M1, with an ASUS PA329Q 32″ 4K/UHD 3840×2160 IPS HDMI Eye Care ProArt Monitor.
6 THE ASUS ROG PHONE 2 and ALL ITS ACCESSORIES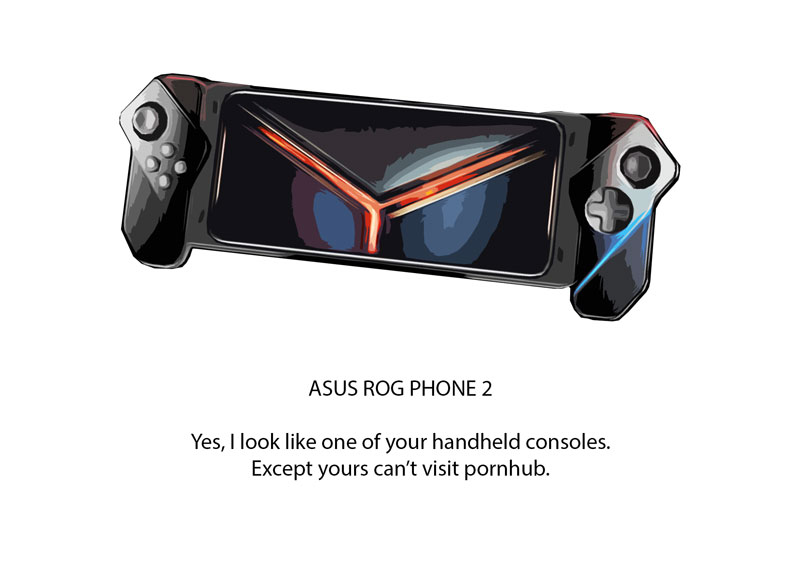 You're probably asking, "Is this 2019's best cellpho-"
Yes.
"Does it come with cool accesori-"
Yes
"Is it good for gam-"
Yes.
"Is it faster than oth-"
Yes.
"Are you going to keep interru-"
YES! If ASUS comes out with the ROG PHONE 3, I don't think I'd care because I'll still be too busy with the ROG 2's multiple levels of awesomeness. And honestly, I don't think a newer version of this phone would make too much of a difference performance-wise, especially if it came out this soon.
7 A PANASONIC LUMIX MIRRORLESS CAMERA with LENSES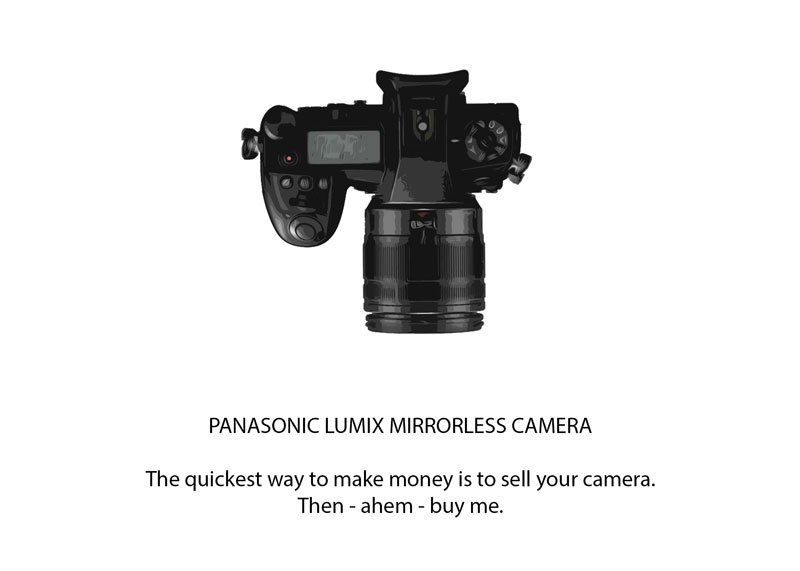 Mirrorless cameras are the future. If my calculations are right, DLSRs will be phased out before the year 2999. Ok, let's think about that, shall we? No? Ok then, my choices would be either the Mirrorless Lumix G9 or the GH5s simply because of their awesome 4k capabilities and at 60 fps. Although their still pictures leave a lot to be desired, but I'd primarily choose awesome video capabilities over stills perfection. Also, it looks like a classic DSLR, albeit, smaller. A lot of DSLRs that I've handled were just too big and heavy and mounting them on stabilizers (that were also too big and too heavy!) took too much time to set up. If only robotic exoskeletons were allowed on this article then I'd just go ahead and jot 'em down so Santa would give me one and it would make my life easier carrying heavy loads such as huge cameras and food trucks and houses and…
wait a minute….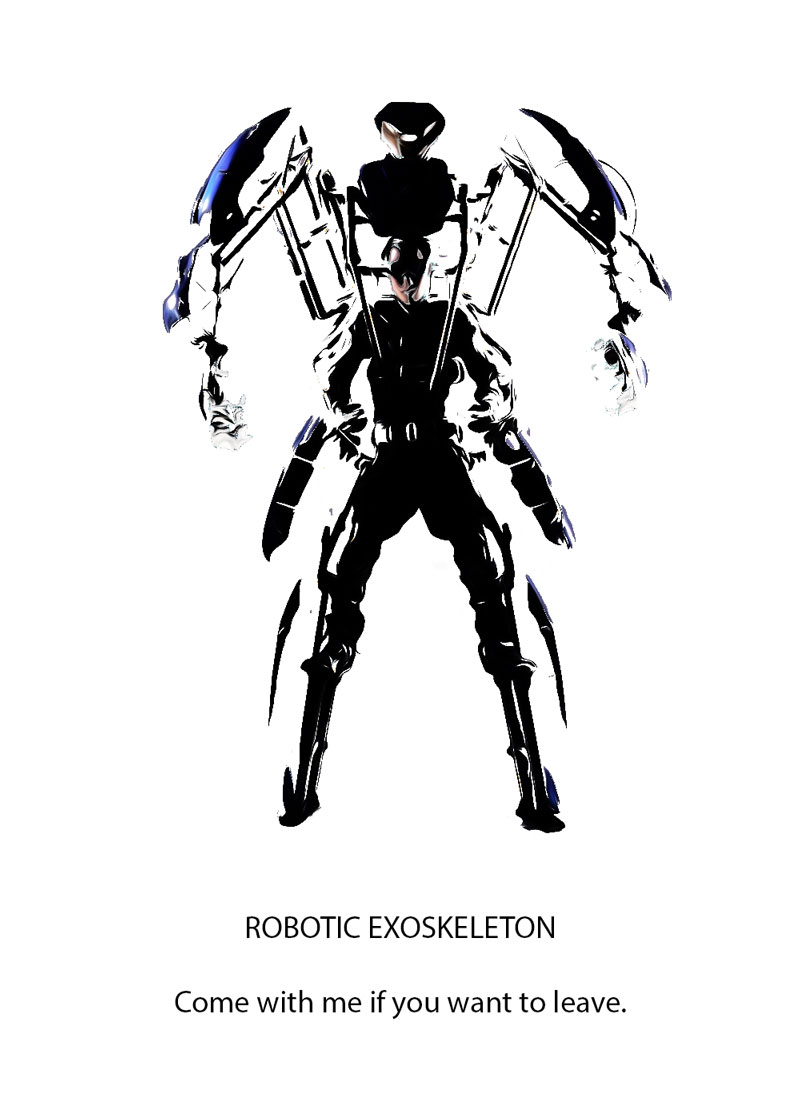 Yeah! Why not? So first let's watch this video right here:
Aaaand… I realize that they're not really good for carrying stuff around. But they're cool, right? I'd like to have one. Especially that last one, the jet suit. Think about it.. and then think of…. IRON MAN. Whooaaah yeahhh… I know we're a long way away from that possibility but, hey, we're getting there. The only flaw I can see with it is I can't scratch my butt with that thing on.
9 THE SAMSUNG GEAR S3 FRONTIER SMARTWATCH
Let's face it. I don't really need this. Heck, I don't really need all the things listed here. Nobody does. We'd just like to have them. But this smartwatch may probably be one of the things I'd like to have the least. So why bother? Answer: because I'm running out of things to list down. In truth, I'd like to have stopped at number 7. Ok, maybe number 8. But hey, 12 is the magic number, especially when we're talking about the holidays. Also, I actually like watches. And after much soul-searching and research of so many smartwatches out there (three), I've decided to go with the Samsung Gear S3 Frontier. I think it's the best one, and I can confidently say that because I have a black belt in googling.
10 A NIKE ADAPT BB SELF-LACING SHOE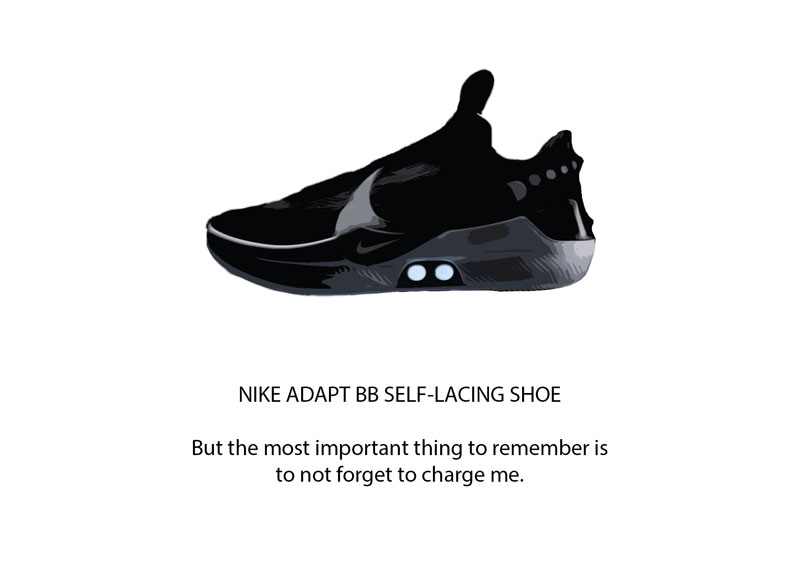 I'm not really overly particular when it comes to shoes. If Santa decides to give me a USB Charging Tsinelas for the winter, then it shall be so. But if in his wisdom he decides that I should have a Nike Adapt BB Self Lacing Shoe, then by the gods, who am I to deny such a gift? It calls to me, this shoe. I feel like it caters to the sloth inside of my professional athletic exterior (eSports baby! because I've been involved in some Starcraft Tournaments in my time). Granted, I won't be using it for outdoor sports, but running up and down the building where I work can definitely take a toll so it would be very useful.
11 THE VUZIX BLADE AR GLASSES
Smart glasses are the future! Which means, they totally suck now. But if I were to ever get a pair of glasses for the infinite techie in me, then I'd want to have the Vuzix Blade AR Glasses. Sure they're a bit bulky, but the important thing here is to finally finish my list of 12 things I'd want for Christmas. So yeah, the Vuzix Blade generates a cool factor for the wearer a total of 4.8 on the geek scale. Admittedly, other smart glasses might make you look more awesome, but overall, the Vuzix Blade is the more practical and useful one.
12 A PORTABLE LIGHTS AND SOUND SETUP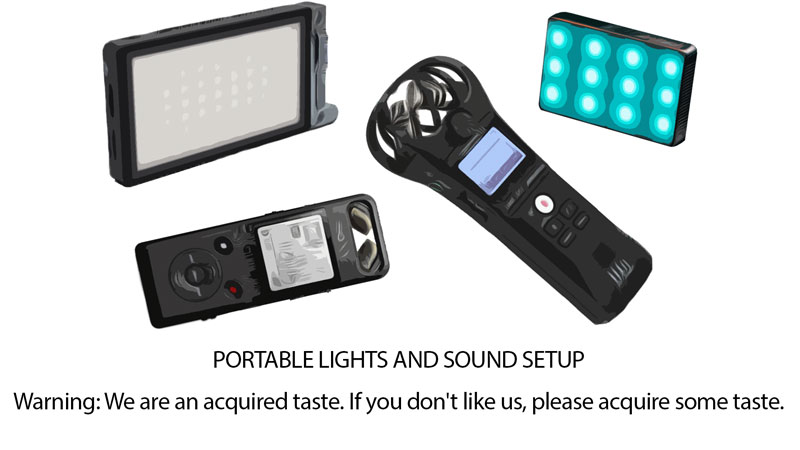 I almost forgot about this. Though to be fair, it's not everyday that I get to write about some of the things I'd like to have. So yes, this last one happens to have some importance for my work. My field is in audio and video, so an Aputure MC LED Light, a Boling P1 LED Light, a Zoom h1n Audio Recorder, and a Sony PCM-A10 Audio Recorder would do nicely for my personal and professional usage of shooting porn.