Chubby Boys is an OPM metal band with members who hail from all over Leyte. They used to stick to alternative music as their preferred genre but then decided to switch to metal when they found out that their singer actually had the vocal skills to do the job. Chubby Boys comprises Andree 'Samboy' Epilogo (Vocals), Von Carlo Tiston (Lead Guitars), Clinton Lerios (Rhythm Guitars) Charles Lerios (Drummer), and Patrick Malquisto (Bass).
Officially, they started on June 15, 2018, but they had already been jamming with each other before that. This is where their band name plays a part in their history. It came about due to a gig in which they had reunited with each other and they did not know what to name their group. They noticed the growth in size they had acquired over the years and decided to call themselves what they saw in the proverbial mirror. Thus Chubby Boys was born.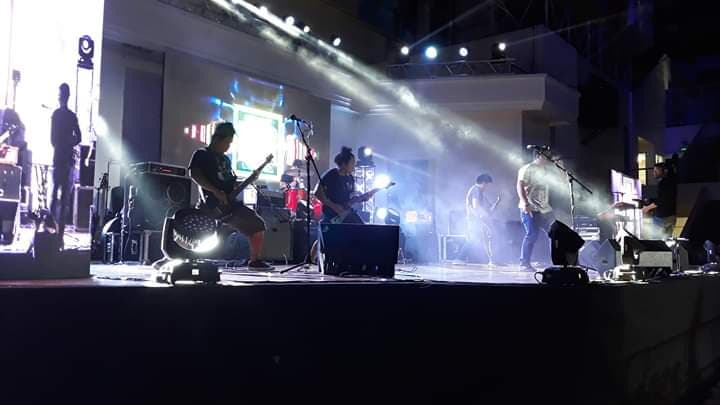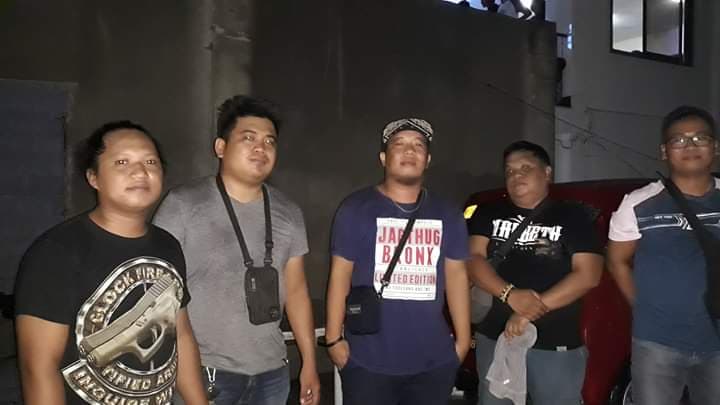 Charles is from Tolosa and he's been handling the drums for other bands before. He was a member of a group of young musicians named The Irish Band. His influences are wide contrasts of Rivermaya, Slipknot, and Slapshock. In joining Chubby Boys, he contemplates that time is the utmost deciding element in their progress as a group. However, Charles also concedes that loyalty is another huge driving factor for the band. When one member isn't available for a gig, he says they wouldn't even consider a temporary replacement for that person.
Patrick is from Abuyog, Leyte. He's basically an all-around musician. That means he can easily handle the Bass, the Guitar, the Drums, and the Mic all at the same time! I'm kidding. But he really can play those instruments comfortably in any band and in any genre. It's no wonder, since he comes from a family of musicians. His cousins introduced him to music such as Korn, Deftones, System of a Down, etc. Patrick started out with Alternative music back in High School with his classmates as a bassist. Patrick's arrangement of their compositions is a crucial ingredient for Chubby Boys.
Samboy is from Naga-Naga, Tacloban. His older brother introduced him to a lot of Hardcore Bands as he was growing up. When his brother died, Samboy inherited all of his sibling's CD collections. He repeatedly kept playing all of the CDs in memory of his older brother. He realized he loved all of it, particularly Slapshock. It wasn't long before a classmate noticed Samboy singing on a videoke machine during an intramurals in High School; that set him on the path to forming his first band. One of his teachers was even very enthusiastic with this and gave his full support.
Clinton is the sibling of Charles. His family may have been musically inclined, but interestingly, he only became interested with the guitar because of his neighbor who was good at playing and was more than happy to teach him and let him borrow his instrument every afternoon. He asked his father to buy him a guitar, who consented only if he focused on his studies. Having achieved thus, he finally got his guitar, and realized he loved Slapshock much like his brother. He also gives credit to Metallica as being influential to his guitar playing.
Von is also from Tolosa. He had started playing the guitar throughout High School but it was only during his college years that he started affiliating and attaching himself to a band. In that short time, He'd managed to accumulate some fine local groups in his belt. It is very likely that Von has the most experience compared to the other members, simply because he used to play guitars for noteworthy groups such as Little Highdee and Squared Box way back some years ago. As an engineer, he manages to juggle his work and musician's life without much difficulty.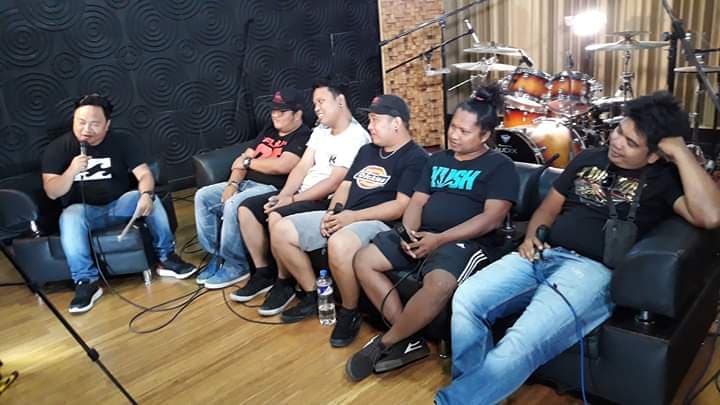 Interestingly, they follow a standard when it comes to composing songs. They drink. Though that may not happen all the time, but when it does, it is remarkable. Samboy asks particular topics from the group, and then they give him suggestions. In that moment, a song begins to take life. All this, during tagays. Other bands follow this process half the time, but it seems that Chubby Boys do it very well — as opposed to most others who get too drunk to actually remember it the next day.
Chubby Boys performed two original songs for their KBox TV interview. 'Kilos Kabataan' is about drug abuse and the youth that need protection from it. Patrick and his older sister, who's actually quite a good lyricist, wrote the song. Samboy composed the second one, 'Bigong Mundo'. It is their Yolanda song. The tragedy of the super typhoon that wrecked the whole region, especially Tacloban, was immortalized in its lyrics — as well as the heavy riffs added by Patrick.
The Chubby Boys wish to create a legacy for themselves, one that would at least allow them to be proud to show to their descendants, whether it be in the form of an album or local recognition — either is fine. The interview concluded with them leaving parting words of encouragement towards the next generation of musicians: 'Never give up, stay committed and united, respect one another, keep practicing, and support each other'.