KBOX TV recently had a candid interview with probably the finest guitar virtuoso from the Eastern Visayas Region. Sharing Noli Aurillo's views was too much like listening to a guru giving us a walk-through on how the world revolves around its axis.
Born 1959 in Tacloban City. At age 11, his first love was magic while drawing was a favorite hobby. This was also the time that he first heard Himig Natin. The song stirred the fire that pulled him to music. He remembers he would pretend to be sick from school just so he could sneak back home and play his older brother's guitar. His brother taught him in an unorthodox manner. He would play a chord without showing the finger positions and would ask Noli to duplicate the sound. When asked if he was playing the right chord, his brother usually answered, "If it sounds right to you, then it is right." It started the obsession for guitar at an early age.
As a teen, Noli knew that he wanted to play. He brought his talent to Manila believing that he could be a better musician there rather than staying in Tacloban. Aside from a larger battleground for opportunities, he was after the challenge on how far he can go with his craft. He did not believe nor dreamt of being successful rather he only wanted to go there and play his guitar-music. Indeed, through all these years, his genius resulted to working with most of the legendary and famous musicians that shaped the culture of the Original Pilipino Music.
Long before the word "acoustic" became a commodity in performance mediums, Noli Aurillo has been into it since 1976. From bar gigs, jams, concerts, music festivals, and studios where he worked and collaborated with musicians from the 70s to present; he has delivered extraordinary intelligence. He won Best Arranger in the 2002 Awit Awards for "Dalawang Dekada ng Asin" which the Philippine Philharmonic Orchestra played his music.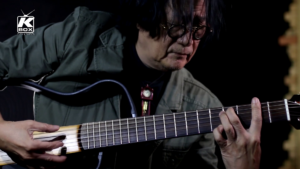 Noli Aurillo's philosophy on his music is not about being successful but rather making everybody happy about what he does. All he stands for is that he is contented of what he is doing and by doing so; such enthusiasm exudes to his audience. As he repeatedly expressed, Music is neither a career nor a profession. For him, it is a vocation wherein you just have to trust in your inner self. He plays the guitar sacredly and as long as people appreciate his music, he considers it a success.
KBOX STUDIOS captured a few of his arrangements in the live room. Noli's musical structure has large ricochets of folk music; jazz, blues, country, reggae, classical, flamenco, and old school rock and roll converged into one. His  music is like having a walk on different genres and could transcend the listeners into a strange musical character within the same particular piece. A Noli Aurillo trademark from decades of performances.
The virtuoso couldn't help but drop a tear to express his gratitude to the KBOX family for the recognition. Not just to him but also in behalf of the other artists that it will honor in the future. — WHO IS NOLI AURILLO? He meekly answers, "Noli Aurilio could be anybody or he can be nobody."
KBOX TV features existing and new talents. It is envisioned to recognize works from the Region 8's ancestral past and promote the campaign to document unwritten and lost records that are vital in the Waray-Waray heritage. Check our website www.kboxstudios.com in case you miss it live on TV.