Baby Dinosaurs was borne out of a drunken pronouncement at the Cerebro Bar. The idea came from three individuals who-concluded-that-the-world-was-actually-round sometime 2014.
THE LONG STORY – 2 days prior to a major event at the Cerebro Bar, a lined-up band withdrew for some reason. The three decided to perform as replacement of the said band on the very same night they were having that magical drinking spree.  The same night that they were planning to form a band.
THE BEST STORY – Baby Dinosaurs was able to create amazing music out of original compositions on such a very short call (duha la kaadlaw). They were able to write five Waray-Waray originals and somehow the chemistry was evidently natural, as the trio never stopped writing songs until today.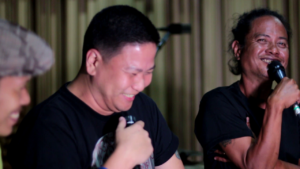 THE TRIO
CheeBoom – KBOX Studio's sound engineer, plays the bass;
Sean Rama – a banker and a self-learned drummer;
Rex Makabenta – a guitar virtuoso, prolific songwriter, ramen chef, vocalist
Baby Dinosaurs performed two of their Waray-Waray compositions in this interview with KBOX TV. Their mood-based music is actually a product of diverse influences accumulated through experience and existence.
Hadi and Kay-ano Kasugad display a separate genre that has adapted alternative, jazz, rock, and pop music into easy listening. Above all – the lyricism and the non-eccentric usage of the Waray-Waray language is the main fabric of what Baby Dinosaurs are all about.
Baby Dinosaurs continues to write music. Every instance that a melody gets in their way, a drinking spree at the Cerebro Bar provides a perfect apothesis of another feel-good music.
KBOX TV features existing and new talents. It is envisioned to recognize works from the Region 8's ancestral past and promote the campaign to document unwritten and lost records that are vital in the Waray-Waray heritage. Check our website www.kboxstudios.com in case you miss it live on TV.