Bagasumbol is a 2-hour drive from Tacloban City. This is what Naval was used to be called. It is the capital municipality that seats the provincial government of the Biliran Province.
KBOX TV had a chance to talk with a homegrown band coming from the island province. A bonding that goes way back to their childhood. We had the opportunity to get their views while they are in the process of recording their album at the KBOX Studios. All the way from Naval, this is their story.
Receipts are technically something you give in exchange. 76 stand for the number of reasons why you have to give something back. – Thus, the anatomy of the band's name, 76 RECEIPTS.
They use to call themselves Burger Shotgun when the band started in 2008. Jaybe Sumaya on keyboards, Rez Pilapil on drums, and Gerard Espina on vocals were the founders of the concept. The core added Carlo Buena for bass in 2010 and Mharfin Corto for lead guitar in September 2017. Rez left the band earlier this year so they replaced him with Angel Serdoncillo.
76 RECEIPTS offers a city-type rock sound that is cool to the soul. An intermix of island groove rhythm with a bittersweet pace would best describe their material. The band played two of their original compositions on a live take for KBOX TV. They performed Boomerang and Pakiusap Lang; both songs are included in their upcoming album.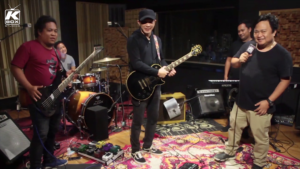 76 RECEIPTS promotes music to the younger generation in Naval. They hold FREE workshops for different instruments to teenagers. They share their knowledge for the love of it. One of these days, it will not be surprising if a new breed of talents emerge from the sounds of Bagasumbol.
KBOX TV features existing and new talents. It is envisioned to recognize works from the Region 8's ancestral past and promote the campaign to document unwritten and lost records that are vital in the Waray-Waray heritage. Check our website www.kboxstudios.com in case you miss it live on TV.